The Amazing Copper Spring Bracelet
For centuries it has been recognized that copper can absorb pain and offers great relief from symptoms of arthritis, bursitis, gout, and many other forms of discomfort. Its popularity has also increased greatly due to the realization by many wearers that they just feel more balanced when wearing it.
Everyone knows that copper is a great electrical conductor and, next to pure silver, is one of the best out there.
All pain is electrical by nature, otherwise it could not travel along the nervous system to the brain.
But if it can be conducted and thereby intercepted before it gets to the brain, this will relieve the wearer of a lot of irritation.
When the pure copper bracelet makes a complete circuit around the arm the nervous energy (pain) is more absorbed than when the bracelet is C shaped and does not join together.
Most copper bracelets are rigid, C shaped and can only be worn on the wrist, even though the pain may be in the knees, elbow, or elsewhere. We understand how important it is to have the copper touching the skin as close to the site of pain as possible, and also how important it is to have a wide area of contact with the skin. Our bracelets are unique in the way they can be adjusted to a comfortable fit on different areas of the body.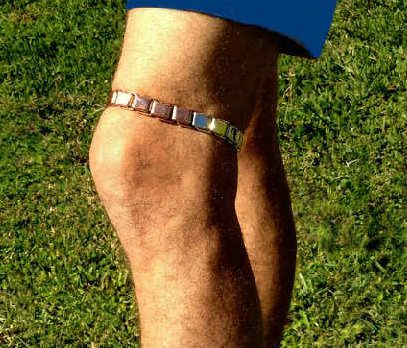 When adjusted correctly the ergonomic stretchable spring pure copper bracelet can be worn at different points on the legs or arms without slipping. Hence it can often be worn very close to or directly over the site of pain. We do not know of any other solid copper bracelet that can do this. Our patented design derives from the conclusions to our research regarding the importance of wearing copper in close proximity to the site of pain.
Please remember rigid C shaped copper bracelets are not comfortable for many people and that the flexible spring bracelet is snug and so comfortable you will not realize you are wearing it most of the time.